We're celebrating MCO's first blog-birthday with MCO's Birthday Bash are so glad that you could join us for this event! If you've missed the giveaways up until now, be sure to click on the photo below to enter to win some amazing prizes from Strollers to Cookware!
Click on the image below to be redirected to a list of open giveaways.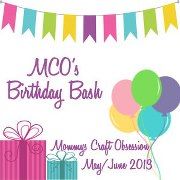 MCO's Birthday Bash is continuing our celebration with an amazing giveaway for a Dropcam HD!
*I received a complimentary Dropcam for review in exchange of my honest thoughts and opinions*
Photo Credits: Dropcam
Dropcam was developed by co-founders Greg Duffy and Aamir Virani after Greg's father desperately wanted to figure out which local dog was making a mess of his yard. He began hooking up IP camera's but was having trouble getting the system to work just right and that storing video on his hard drive wasn't an easy or secure solution. Greg was immediately interested in solving his dads dilemma and called his friend Aamir to talk through the problem. They began throwing around the idea around soon connected with tech pioneer Mitch Kapor who decided to fun the initial development which resulted in the launch of Dropcam in 2009. Now Dropcam is widely used around the country to "drop in" on their babies, pets, and even to catch unsuspecting thieves.
Dropcam generously sent me one of their Dropcam HD video monitors for review and I have to admit I was pretty excited to receive it. I know a handful of people who own Dropcams and they always rant and rave about them and how easy to use they are, so needless to say I was jumping with joy when the box arrived on my doorstep! When I opened the box I was pleased to see that the set up didn't appear to be to complicated, so I took everything out of the box, laid it in front of me, and picked up the instructions. The monitor comes with everything you need to get your Dropcam up and running including the USB cord, wall charger, and even a wall mount! I was pretty excited to plug it in and get my new Dropcam set up.
I was doing a happy dance when I saw that the instructions were the easiest I have ever seen for an electronic device, let alone a video monitor. Simply attach the USB cord to your Dropcam and your computer and let Dropcam's software do the rest. You'll need to push a few buttons such as "next" and "accept", but I kid you not, you'll be finished setting up your monitor within a minute. The Dropcam is a high definition Wi-Fi camera so it runs directly off of your home Wi-Fi, right to your phone or computer. I have an iPhone so I downloaded Dropcam's app and through the app I am able to do everything such as turn the camera on and off, listen to what is going on in my home, and even talk through the Dropcam!
Some of the fantastic features that Dropcam offers are:
As from the Dropcam Website
Quick Setup
HD Video Quality
Secure SSL Encryption
Easy Turn On and Turn Off Based on Your Location
Digital Zoom
Activity Alerts
Exclusive Mobile App
Two Way Audio
Night Vision
DVR
& More!
I chose to set up our Dropcam as a home security camera that is in our front room. Majority of the time I have it facing the front door so I can keep an eye on things from another room or while I am away from my home. What I absolutely love about the monitor is if I leave my house, I don't have to do any configuration changes to use the monitor, instead it automatically allows me to see what is going on while I'm away, and there is even audio! Mr. Hunky and I utilize the Dropcam quite frequently while we are out running errands or in the city. I love that I can check in on my dogs to make sure that Mrs. Bow Jangles isn't on the chair, and Little L isn't getting into trouble. Below are two screenshots that I took through the Dropcam software, the image on the left is through my computer, using the night vision of the Dropcam to spy on Little L (she's the blob by the door), and the image on the right is with the lights on through my iPhone's app. I am extremely happy with the visual quality of the Dropcam, even through the night vision I can clearly see what objects are and any movement that happens in the room. My only request is for Dropcam to add a feature that would allow me to move the camera from the app so that I could scan the room that it is in!
The Dropcam is a fantastic video monitor that will allow you to have peace of mind while you are away from your home, and "allow you to drop in on what you love". My Dropcam gets used daily whether it's to keep an eye on my home while I'm away, keep an eye on Baby A as he's playing, or to spy on the dogs! I've even seen a Dropcam "out in the wild" at the mall!
To Purchase:
Visit
Dropcam's website
and pick yours up for $149! This is a baby gear must have!
To Win:
Mommys Craft Obsession and Dropcam are giving away a Dropcam HD! Enter the Rafflecopter below, all entries are optional with exception of your address, which is necessary for product shipment if you are the winner.
Congrats to Sandy VanHoey!
The Giveaway will close late on the evening of June 12th. The winner will be chosen at random through Rafflecopter which uses Random.org. The winner will be announced both on Rafflecopter as well as MCO's Facebook. The winner will have their prize sent to them by Dropcam, Mommys Craft Obsession and other participating bloggers are not responsible for prize shipment. Must be 18 years and older. Facebook, Twitter, Pinterest, and Google are in no way affiliated with this giveaway. No Purchase Necessary. US Only.
*This review is 100% original and in my own words. Everything written is from my own personal view point and opinions, what works for me, may not work for you. All photos have been taken by me unless stated otherwise. I have been provided with product to review by Dropcam however I have not been compensated monetarily for this review.
Love this blog?
Vote for us daily so we can continue to bring you great giveaways!