We're celebrating MCO's first blog-birthday with MCO's Birthday Bash are so glad that you could join us for this event! If you've missed the giveaways up until now, be sure to click on the photo below to enter to win some amazing prizes from Strollers to Cookware!
Click on the image below to be redirected to a list of open giveaways.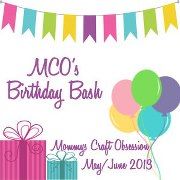 MCO's Birthday Bash is continuing our celebration with an amazing giveaway for a $50 Gift Certificate to MamaBargains.com!
*I received a gift certificate in for the review of MamaBargains in exchange of my honest thoughts and opinions*
Photo Credits: MamaBargains
MamaBargains.com began in early 2008 after the idea was tossed around for quite some time. After being frustrated with websites that weren't streamlined enough, knowing that everyone loves a good bargain, and having two young children, MamaBargains was created. They are the original, one deal at a time website for anyone looking to purchase quality baby, child, and parent items at a bargain price. If there is a bargain to be found at a brand name, baby, child, or parent item, MamaBargains will find it and bring it to their customers.
MamaBargains brings you high quality baby, child, and parent items that are always 40%-80% off of their retail price, and always offers more than one deal per day, they just do it one deal at a time. Nothing is listed at a certain time, in a certain order, or told in advance what the next product will be! It's always a surprise at MamaBargains, making it not only a great website to shop at, but a fun one as well! It is recommended that you check back multiple times a day, or sign up for their alert tool, so you can see the new bargains as they arrive! If you snooze, you loose, so don't miss out on a deal that you've been hoping to find!
I was excited when MamaBargains wanted to team up and be apart of MCO's Birthday Bash. I love to online shop but I try to be good so I limited myself on how often I would stalk MamaBargains. Nevertheless I can never pass up a good deal and let me just tell you, a good deal is always what you will get when you're shopping with MamaBargains! MamaBargains generously issued me a gift certificate to allow me to go shopping and gain the full experience of their website. For a few days I stalked the website multiple times a day, waiting for something to peak my interest and hop into my 'diaper bag'. The website conveniently has an alert tool that will notify you when a new bargain is available but they are still developing the tool for Mac users so rather than downloading it to my old dinosaur computer I did the old fashioned "refresh refresh refresh"on the browser! If you are a Mac user like I am, I highly recommend that you "Like" them on Facebook, they constantly update it with the newest deals and send out friendly reminders when a deal is coming close to ending! The website is well laid out and user friendly, showcasing the bargain on the left of the page with a large photo, the price you will pay, what percentage you are saving, and what the retail price is. If you scroll further down it also gives you a detailed description of the bargain! On the right hand side of the page it shows each product within the bargain and gives you the option to 'add it to your diaper bag' before heading to the check out.
Screenshot from MamaBargains.com
One feature that I absolutely love about MamaBargains is that they make it known if the item you're looking at is running out of stock, every time one is purchased, the little MamaBargains woman moves closer to the "Almost Gone" section. Once she's reached the end, the item is sold out! That feature makes a world of difference to us shoppers on the frugal side who feel like they need time to make a solid decision on a purchase before just jumping into it. Yes, there are some bargains that you just can't pass up, but for those that you're teetering on the edge of maybe and go for it, knowing approximately how many are left in stock is an asset.
Screenshot from MamaBargains.com
Once you have made your shopping selections you then click on proceed to check out and enter in your payment and shipping information! What I really like about MamaBargains is that they do not require you to create an account with them unless you want to. How fantastic is that?! Simply enter in your billing, shipping, and payment information, confirm which shipping method you'd like, review your order, and complete the transaction!
Screenshot from MamaBargains.com
MamaBargains has quickly become a website that I visit daily (sometimes multiple times a day!) and I can always count on a great bargain. If you're a frugal momma looking for deals and steals, MamaBargains is the website for you!
To Purchase:
Visit
MamaBargains.com
and get hooked on awesome products for mom and baby, and on even better savings!
To Win:
Mommys Craft Obsession and Mamabargains.com are giving away a $50 gift certificate to one lucky winner! Enter the Rafflecopter below, all entries are optional with exception of email address, which is necessary for gift certificate redemption if you are the winner.
Congrats to Lynette Anne!

Bummed you didn't win? MamaBargains is extending a special 10% off discount code from 6/16-6/23! Use the code

4f340b73

at check out for your special discount!
The Giveaway will close late on the evening of June 16th. The winner will be chosen at random through Rafflecopter which uses Random.org. The winner will be announced both on Rafflecopter as well as MCO's Facebook. The winner will have their prize sent to them by Boba, Mommys Craft Obsession and other participating bloggers are not responsible for prize shipment. Must be 18 years and older. Facebook, Twitter, Pinterest, and Google are in no way affiliated with this giveaway. No Purchase Necessary. US Only.
*This review is 100% original and in my own words. Everything written is from my own personal view point and opinions, what works for me, may not work for you. All photos have been taken by me unless stated otherwise. I have been provided with product to review by Mamabargains.com however I have not been compensated monetarily for this review.
Love this blog?
Vote for us daily so we can continue to bring you great giveaways!