We're celebrating MCO's first blog-birthday with MCO's Birthday Bash are so glad that you could join us for this event! If you've missed the giveaways up until now, be sure to click on the photo below to enter to win some amazing prizes from Strollers to Cookware!
Click on the image below to be redirected to a list of open giveaways.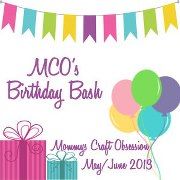 MCO's Birthday Bash is continuing our celebration with a fun Name Puzzle Stool from Damhorst Toys!
*I received a complimentary Name Puzzle Stool for review in exchange of my honest thoughts and opinions*
Photo Credits: Damhorst Toys
Damhorst Toys began in 1971 when they manufactured the first ever personalized wooden name puzzle stool that was originally patterned off of a jigsaw puzzle. This family owned, American-made company wanted to give children a boost of hand eye coordination and the drive to master the proper placement of puzzle pieces. The company is now owned by Kris Damhorst and his sister Megin Cassimastis but was started by their parents Don and Carol. Between 1971 to 1998 Damhorst Toys was managed from their home and distributed into toy shops and brought to craft fairs by Carol. The company moved from their home to a larger shop in 1998 and by 2004 Kris and Megin took over full time ownership of the company. The spirit of Don and Carol live on through the vision,creativity, and quality of the Damhorst Toys that are sold and distributed today. Perhaps the most wonderful thing about Damhorst Toys is that their sales are direct so when you are creating an order with Damhorst Toys you are speaking directly to Kris or Megin throughout the entire process. Damhorst Toys have two great features to their website where you can listen to Podcast episodes or read interesting blog posts that they create especially for their customers! Listen to the
history of Damhorst Toys
or
read some fun posts
pertaining to the baby industry! With Damhorst Toys you'll always find something new on their website!
When I was a little girl, I grew up with a Name Puzzle Stool of my own. The Name Puzzle Stool was in primary colors as is the one I received for review, and it spelled out my whole (very long) name, Alexandria. I have vivid memories of playing with my Name Puzzle Stool for hours, make believing that the letters were various characters, and even pretending that the I in my name was an ice cream cone! While brainstroming ideas to include in MCO's Birthday Bash I had an "ah ha" moment when I realized that Damhorst Toys would be a perfect addition! I reached out to Kris Damhorst and kept my fingers crossed that he would like to be included. To my excitement, Kris generously offered to send me a Name Puzzle Stool for Baby A as well as give one away to a very lucky reader!
For Baby A's Name Puzzle Stool I chose to do his first name in primary colors and engrave the stool with "We Love You to the Moon and Back! Love, Mommy, Daddy, Nana, and Grandpa". I chose to include my parents in the engraving because my mom had a tinge of disappointment when I told her Damhorst Toys was generously sending us a Name Puzzle Stool, she had planned on getting Baby A one for his birthday this September but I beat her to the punch. I thought adding that it was from Nana and Grandpa would be a nice sentimental touch that my mother would appreciate. When the Name Puzzle Stool arrived I couldn't wait to take it out of the box and show it to Baby A.
The stool arrived in five pieces - the main part of the stool and the four legs but setting up the Name Puzzle Stool was a complete breeze. Underneath the stool are four brackets that you screw the legs into until the legs are tight and you cannot remove them unless you unscrew. It took me under a minute to get the stool set up and ready to be played with!
The colors of each letter (puzzle piece) are vibrant, making it fun and easy to help Baby A not only learn to spell his name, but to learn colors and further develop his hand eye coordination by placing the letters in the correct places. Baby A also has created a fun game where he likes to take out each of the letters and throw them throughout the house. He then laughs as I go around looking for the scattered letters to put back in his stool! Although it ultimately creates more work for me, having him follow me around while he is laughing is priceless, and hey, he's only little once, right?
My favorite part about the Name Puzzle Stool is it's quality. Finding quality baby and toddler toys seems to be becoming more of a challenge. Toys are becoming less educational and lower quality, while their prices seem to be increasing. With Damhorst toys not only are you getting product that has multiple educational benefits, but you're also getting a product that will last a lifetime. Don't believe me? I have had my Name Puzzle Stool for over 20 years and aside from some slight fading of the colors due to it being one of my favorite things as a child, the stool is still in absolutely amazing condition and in my years of playing with it I never had a single problem with it. How many toys these days can you say that about!?
Baby A absolutely loves his Name Puzzle Stool and plays with it daily. I can see the wheels in his head turning as he crouches down by the stool to play and it makes me feel great knowing that Damhorst Toys gave my son something that would not only benefit his education but last for many years.
Damhorst Toy's Name Puzzle Stool is available in two sizes (large and small) and in two color schemes (primary and pastel). The small Name Puzzle Stools include up to 8 letters for your child's name, or 7 letters for two names (Example: Ryan Lee or Zoe Jane). The Name Puzzle Stools are made out of wood with a water based, non toxic finish on the stool and the letters. The small Name Puzzle Stool measures 9 X 12 and is approximately 9 inches from the ground, while the large Name Puzzle Stool measures 9 X 20 and is approximately 9 inches from the ground. The large Name Puzzle Stool has a maximum of a 14 letter name or two names with a total of 13 letters. As if the Name Puzzle Stools weren't unique enough, you can even choose to engrave the bottom of them with your own personal message, birth information, quote, or whatever else you would like! Engrave up to 300 characters (9 lines) and give your child an extra special message to look back on into their adulthood.
To Purchase:
Visit
Damhorst Toy's
website and pick yours up for $59-$74! Your little one will love learning their name with this fun and colorful stool!
To Win:
Mommys Craft Obsession and Damhorst Toys are giving away one Name Stool Puzzles that will include up to an 8 letter name and up to 300 characters (9 lines) of engraving! Winners choice of pastel or primary colors! Enter the Rafflecopter below, all entries are optional with exception of your address and color choice, which is necessary for product shipment if you are the winner.
Congrats to Gayle Spitzer!
The Giveaway will close late on the evening of June 5th. The winner will be chosen at random through Rafflecopter which uses Random.org. The winner will be announced both on Rafflecopter as well as MCO's Facebook. The winner will have their prize sent to them by Damhorst Toys, Mommys Craft Obsession and other participating bloggers are not responsible for prize shipment. Must be 18 years and older. Facebook, Twitter, Pinterest, and Google are in no way affiliated with this giveaway. No Purchase Necessary. US Only.
*This review is 100% original and in my own words. Everything written is from my own personal view point and opinions, what works for me, may not work for you. All photos have been taken by me unless stated otherwise. I have been provided with product to review by Damhorst Toys however I have not been compensated monetarily for this review.
Love this blog?
Vote for us daily so we can continue to bring you great giveaways!