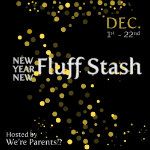 "These Aren't Your Grandma's Cloth Diapers"
And the award to best tag line ever goes to........
Tender Tushies
!
Tender Tushies is based out of Canada, made by a work at home mom who strives to bring great diapers to every budget. Whats awesome about Tender Tushies is that their diapers offer an extra thigh snap for added protection and a perfect fit! Tender Tushies also makes blankets, wet bags, inserts, pacifier clips, and more!
One Lucky Winner Will Receive:
A $10 Store Credit!
Giveaway ends December 23rd at 12:01pm EST. This giveaway is open worldwide


Special Thanks to We're Parents!?
for organizing this great giveaway!