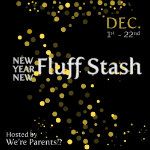 Not sure what to give your friend as a baby shower gift? Have a little ones birthday party coming up and don't want to bring just another noisy toy? You MUST check out
Bundles and Buzz!
Bundles and Buzz prepare surprise packages for mamas, babies, toddlers, family members, and cloth diaper using families! The bundles are made up products from companies looking to increase their sales, introduce a new product, clear out discontinued products, or boost brand awareness.
You may purchase a bundle for $30-35 dollars (including shipping!) and have a surprise package shipped right to their door!
Bundles and Buzz love to give their fans hints on
Facebook
so I suggest becoming a fan so you can find out about awesome deals!
This is a sample of a Bundles and Buzz cloth diaper bundle - all bundles are different.
One lucky winner is going to take home:
A Bundles and Buzz Cloth Bundle valued at $60
Giveaway ends on December 23rd at 12:01pm EST. Giveaway is open to US and Canada Residents Only.
Special Thanks to
We're Parents!?
for organizing this great giveaway!