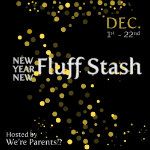 I bet all of us cloth diapering mamas can agree- finding cloth diaper safe baby products such as creams and ointments, is like gold. Am I right? Well look no further!
Scarlet's Naturals
will make you jump with joy.
Scarlet's Naturals began when a momma and a daddy realized that their daughter Scarlet was highly allergic to commercial diaper creams. With essentially no other options, they turned to making their own products for their baby girl, right out of their own kitchen! Soon they were sharing them with their friends and their popularity grew when everyone heard how amazing they were! Before they knew it, Scarlet's Naturals was born!
All of the products made Scarlet's Naturals are all natural and cloth diaper safe!
One lucky winner will get an amazing prize package from Scarlet's Naturals!
1 Hiney Honey Bites
1 Hiney Honey Cream
1 Hiney Honey Quick Stick
Giveaway ends December 23rd at 12:01 pm EST. This giveaway is open worldwide.
Special Thanks to
We're Parents!?
for organizing this great giveaway!