Happy Holiday's from MCO!
Tis' the season to win amazing prizes during in MCO's Holiday Giveaway Extravaganza! If you haven't been paying attention or you are new to MCO, the HGE is 21 Days of Giveaways hosted by MCO and sponsored by fan favorite companies and Etsy shops! There will be at
least
one giveaway per day so make sure you tune in for your chance to win some fabulous prizes!
Do you remember the review MCO did on the amazing iPad case from
MB Embroidery & Designs
? If not, you can refresh your memory by clicking
HERE
! Don't you just love their craftsmanship? Well guess what!
MCO and MB Embroidery & Designs want to give one lucky winner a Personalized Monogrammed Red and White Polka Dot Christmas Stocking!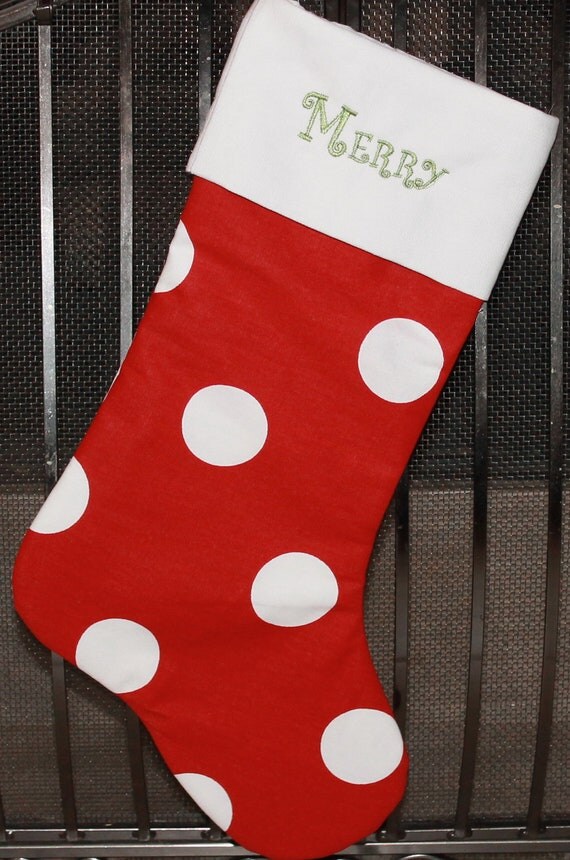 Photo Credits: MB Embroidery & Designs
Winner chooses personalization!
Here's how to win!
The Giveaway will close late on the evening of Friday November 30th and the winner will be announced no later than the morning of Saturday December 1st. The winner will be chosen at random through Rafflecopter which uses Random.org. The winner will be announced both on the Rafflecopter as well as MCO's Facebook. The winner will be emailed by MB Embroidery & Designs to redeem their prize. If no contact with the winner has been made within 72 hours of announcing, the winner will forfeit the prize and a new winner will be chosen.
This giveaway is open to US and Canada Residents Only.
Click
HERE
to go shopping at MB Embroidery & Designs.